By: PRO Joe Bracken
MUNSTER U20 HURLING CHAMPIONSHIP
The sun shone magnificently on Semple Stadium on Tuesday night, as Tipperary and Cork produced an absolute thriller in the Bord Gais Energy Munster U20 Hurling Championship final, with the Premier men emerging victorious as the inaugural winners of the new grade after a tremendous battle with the Rebels. It was end to end throughout until Jake Morris (Nenagh Éire Óg, 1-4) delivered a killer blow in the last minute of injury time to send Tipperary supporters wild with euphoria as his goal edged his side in front by a point to seal a memorable 3-15 to 2-17 win before an attendance of 9,117 captivated supporters.
Tipp had many candidates for Bord Gais Energy Man of the Match, but the honour once again went to Conor Bowe (Moyne-Templetuohy) who scored 1-4, pictured below receiving his award from Eoghan Kennedy, (picture courtesy George Hatchell), with Tipp's other goal coming from Kian O'Kelly (Kilruane MacDonaghs).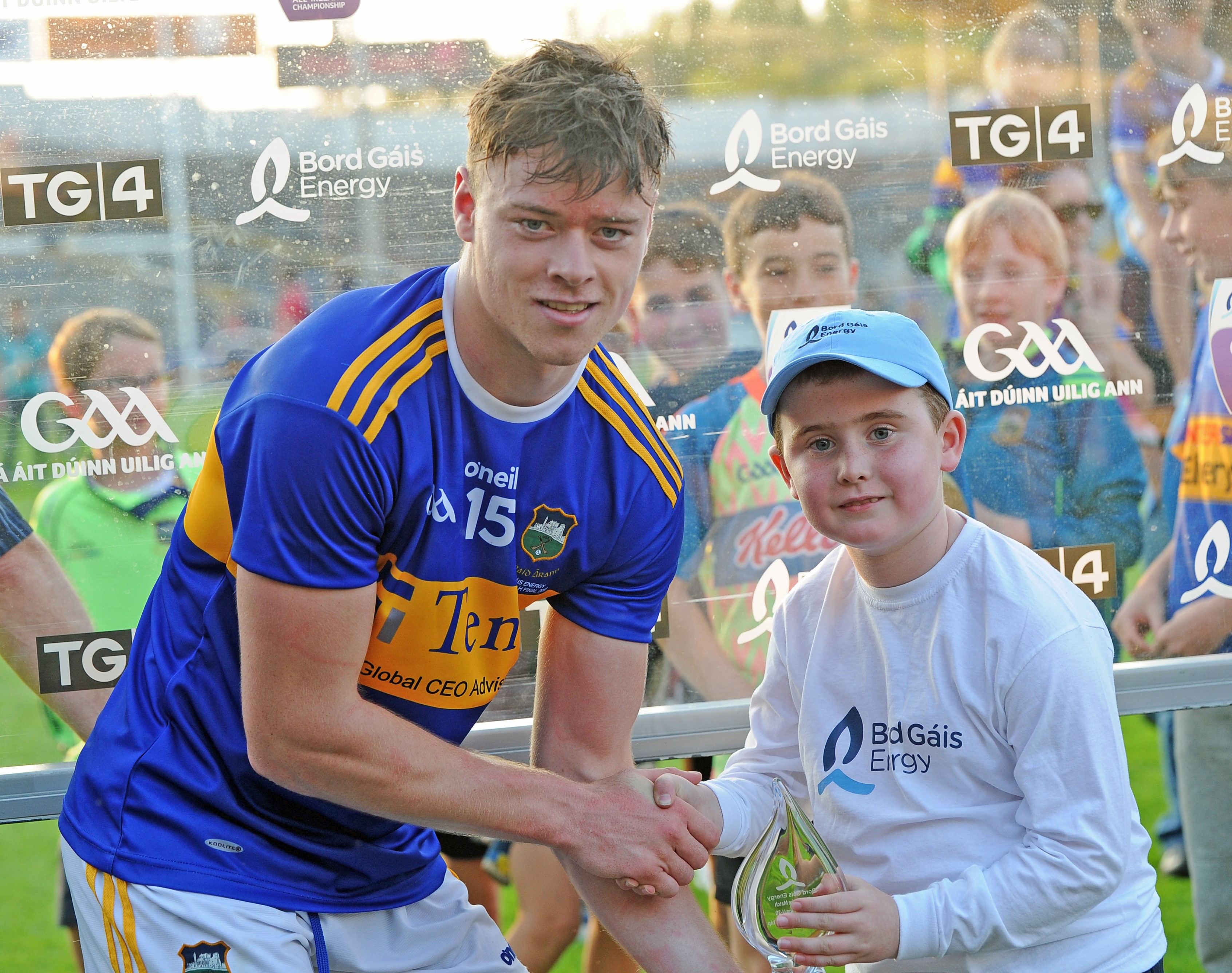 Tuesday's win sets Tipperary up for an All-Ireland semi-final appearance against Wexford on the weekend of 3rd /4th August.
Tipperary with twenty U21 titles to their name had only two one-point wins previously, those away from home when defeating Limerick in 1984 and Clare in 2008.
Congratulations to the team, led by captain Craig Morgan (Kilruane MacDonaghs) right and their management of Liam Cahill, Michael Bevans, TJ Ryan and Seán Corbett as they now switch attention to the All-Ireland semi-final.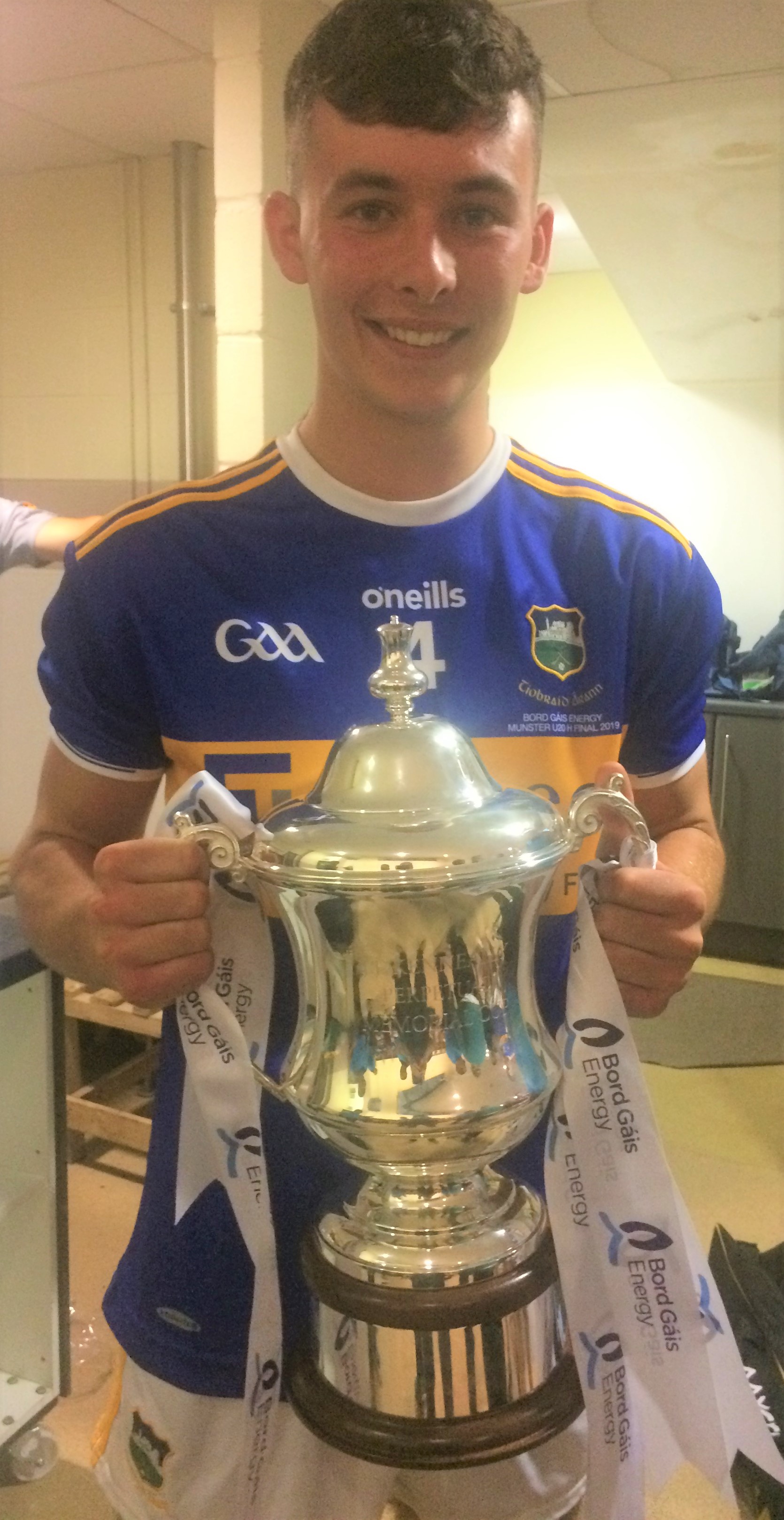 ALL-IRELAND SENIOR HURLING CHAMPIONSHIP
It's down to the wire now for the Tipperary senior hurlers as they head back to Croke Park on Sunday next, July 28th, for their All Ireland SHC semi-final clash with Wexford. This is where they want to be and a huge Tipp gathering behind the side would be enormously appreciated by players and management.
As indicated previously there has been 11 games played between Tipperary and Wexford in championship hurling. The Premier County have won 7 times, drew one and lost 3. The details are as follows – 1899 All Ireland final, at Jones Road (Croke Park) Tipperary (Horse & Jockey selection) 3-12 Wexford (Blackwater selection) 1-4 (Played on March 24th, 1901); 1951 All Ireland final, at Croke Park, Tipperary 7-7 Wexford 3-9; 1960 All Ireland final, at Croke Park, Wexford 2-15 Tipperary 0-11; 1962 All Ireland final, at Croke Park, Tipperary 3-10 Wexford 2-11; 1965 All Ireland final, at Croke Park, Tipperary 2-16 Wexford 0-10 (Tipperary's 21st All Ireland title); 1968 All Ireland final, at Croke Park, Wexford 5-8 Tipperary 3-12; 1997 All Ireland semi-final, at Croke Park, Tipperary 2-16 Wexford 0-15; 2001 All Ireland semi-final, at Croke Park, Tipperary 1-16 Wexford 3-10 Draw; 2001 All Ireland semi-final, at Croke Park, Tipperary 3-12 Wexford 0-10 Replay; 2007 All Ireland quarter final, at Croke Park, Wexford 3-10 Tipperary 1-14 and in 2010 All Ireland qualifier, at Semple Stadium, Tipperary 3-24 Wexford 0-19.
The record attendance was set in 1960 when 77,154 patrons attended the All Ireland final on September 4th.
The 1962 All Ireland final was the first to be televised live by RTE. Only 16 frees were awarded during the hour and this game is considered by supporters with long memories, to have been the best between the counties.
The respective Tipperary captains in the games were – 1899 – Tim Condon, 1951 – Jimmy Finn, 1960 – Tony Wall, 1962 & 1965 – Jimmy Doyle, 1968 – Mick Roche, 1997 – Conor Gleeson, 2001 – Thomas Dunne, 2007 – Benny Dunne and 2010 – Eoin Kelly.
Tipperary's individual scoring record against Wexford is held jointly by Eoin Kelly, who landed 0-9, in the 2001 All Ireland semi-final replay and Lar Corbett, who scored 2-3, in the 2010 qualifier game. Current Tipperary selector Darragh Egan scored his team's third goal in the 2010 clash, while the respective managers were Liam Sheedy and Colm Bonnar. Interestingly, Liam and Colm played together four times in the Tipp half back line during the 1997 championship, including the All Ireland semi-final win over Wexford.
Jimmy Doyle was the only Tipperary player to score against Wexford in all four All Ireland final meetings during the 1960s. His highest return was in 1968 when he scored 1-5 before retiring injured during the second half.
With 35k Wexford supporters expected this Sunday, as mentioned already the Tipperary support is needed now more than ever to get behind our team as the side look to capture one of the two prized spots in this year's All Ireland final.
We send best wishes to the team and management on what will be a huge task on Sunday as well as being a fantastic occasion.
Tickets are now available for that fixture on gaa.ie/tickets and selected Centra/SuperValu stores. Prices as follows: Hogan Stand (No Concessions) – €50; Cusack Stand – €50; Family Tickets- Cusack and Davin Stands Only: Adults – €50 and Juveniles – €5; Terrace – €35. Student/OAP €10 rebate on full price Cusack/Davin stand tickets via block D Cusack Stand with Valid ID.
The referee on Sunday will be Seán Cleere (Kilkenny) and the game will throw in at 3:30pm.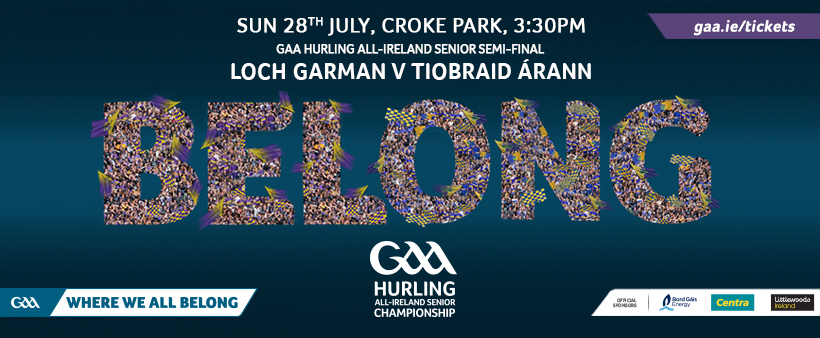 CAMOGIE
The Tipperary senior camogie team defeated Meath 0-15 to 0-11 in Round 5 of the Liberty Insurance All-Ireland Senior Camogie Championship last weekend. The victory placed them second in group 2 and they will now meet Limerick the All-Ireland quarter-final in Semple Stadium on Saturday, 3rd August at 5:30pm.
There will be a 'Meet and Greet Night' from 7pm this Wednesday, July 24th in the County Camogie Grounds, the Ragg, where all young girls and boys can meet the starts of the senior and intermediate camogie teams.
It is an ideal opportunity to give your best wishes also to the senior stars ahead of their quarter-final appearance.
LADIES GAELIC FOOTBALL
The Tipperary ladies had a resounding win in the TG4 All-Ireland Intermediate Ladies Football Championship last weekend with a 7-22 to 2-4 victory over Longford. Aishling Moloney (Cahir) was the sides top scorer with 2-11. The other goals came courtesy of Aishling McCarthy (Cahir 1-5), Mary Rose Kennedy (Aherlow 1-00), Angela McGuigan (Sliabh na mBan 1-1), Ava Fennessy (Clonmel Commercials 1-2) and Emma Morrissey (Aherlow 1-00). Their final group game is against Wicklow on July 28th.
CLUB FIXTURES

A number of the Tipperary Water County Hurling League finals were played within the last week and congratulations to all the winners with selected results as follows;
Tipperary Water 'Johnny Ryan Cup' County Hurling League Division 1 Final
Drom-Inch 3-13 Upperchurch-Drombane 0-19
Tipperary Water 'Jim Devitt Cup' County Hurling League Division 2 Final
Lorrha-Dorrha 3-16 Clonakenny 1-21
Tipperary Water 'James Holohan Cup' County Hurling League Division 4 Final
Carrick Davins 1-21 Arravale Rovers 1-10
Tipperary Water 'Dr. Clifford Cup' County Football League Division 1
Clonmel Commercials 2-7 Moyle Rovers 1-4
Tipperary Water 'Tipperary Man's Cup' County Football League Division 2
Clonmel Óg 4-19 Fethard 1-6
Tipperary Water 'Board Shield' County Football League Division 3
Killenaule 1-12 Sean Treacy's 0-13
The following are fixtures for some remaining finals as follows in the course of the next ten days.
Tipperary Water County Hurling League Division 3 Final
24/07/2019 – at 7:30pm in Drombane – Drom & Inch v Knockavilla-Donaskeigh Kickhams
Tipperary Water County Hurling League Division 5 Final
26/07/2019 – at 7:30pm in Clogheen – Newcastle v Ballylooby-Castlegrace
Tipperary Water 'Pauline Coonan Plaque' County Hurling League Division 6 Final
02/08/2019 – at 7:30pm in Drombane – Killea v Solohead
For results of all games and forthcoming fixtures please check https://tipperary.gaa.ie/fixtures-results/
TIPPERARY CLUBS DRAW
The August Draw will be held in Ballina in association with Ballina GAA Club on Friday week, August 2nd.
KELLOGG'S CÚL CAMPS
Best wishes to all clubs running Kellogg's GAA Cúl Camps this week in the following venues – Ardfinnan, Borrisokane, Fr. Sheehy's, Galtee Rovers, Killenaule, Lorrha-Dorrha and Sean Treacy's.
The Tipperary Cúl Camp ambassadors are Jason Forde and Michael Breen.
TEAM TIPPERARY GAA RACE DAY

The Team Tipperary GAA Race Day at the Galway Races is on Monday next, July 29th and is the fifth Galway Races venture continuing very successful outings for the past 4 years.
If you or anyone you know is interested in racing, or just want a good day out and who might take one of the last few seats available and support our fundraising efforts, please contact Tim Floyd, County Secretary, 087 2591747 [email protected] for bookings and further details.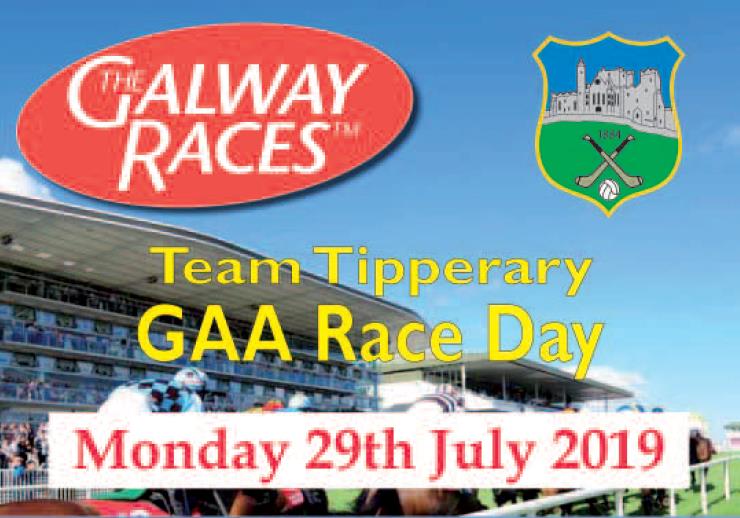 FUNDRAISING APPEAL
Kevin Bourke played underage with Newport GAA Club and has a very rare form of inoperable cancer (thymic squamous cell carcinoma). His options for treatment are now limited. He is currently on round three of a four round cycle of chemotherapy but it's not enough. Kevin's body isn't able for more chemo and now needs to switch to immunotherapy treatment to give him the best chance possible. Kevin.is a son of former club secretary Mary Bourke who continues to work tirelessly for Newport GAA club. The club appreciate the co-operation of the GAA Family and beyond to help this young man in his fight for life. Please circulate this link to friends, family, work colleagues plus anyone you know and request their support for the "Go Fund Me" page below.
https://www.gofundme.com/the-kevin-bourke-treatment-fund
TIPPERARY SUPPORTERS CLUB

In conjunction with Tipperary Supporters Club, supporters are asked to rally behind the senior hurling team in Croke Park on Sunday next for Tipperary's All-Ireland semi-final clash with Wexford.
Supporters can still join the Tipperary Supporters Club at www.tippsupportersclub.com or by calling Jim Reidy, Membership Officer on 086 3580718.
The membership pack includes the following benefits:
All members are entered into a prize draw for championship match tickets for all Tipperary Senior games.
A specially designed Tipperary Supporters Club pen with stylus for use on touch-screen devices
2019 Car Sticker
Text alerts for all Championship team news
Regular news to your email about all the latest in Tipperary GAA circles.
Also read