MUNSTER SENIOR HURLING CHAMPIONSHIP
The Munster Senior Hurling Championship swings back into action this weekend, with Tipperary on the road for their Round 3 match against Clare in Ennis. Throw in is at 4pm and the referee will be Alan Kelly (Gaillimh).
With a capacity crowd expected the atmosphere should be electric as both sides look to push on in this season's championship. There have been 53 previous championship meetings between the counties where Tipperary has won 36 games, Clare 13 and there were 4 draws. Two of Clare's wins followed objections to Tipperary's on pitch victories.
The last ten meetings are as follows – 2000 at Páirc Uí Chaoimh, Tipperary 2-19 Clare 1-14 (Semi-final); 2001 at Páirc Uí Chaoimh, Tipperary 0-15 Clare 0-14 (Semi-final); 2002 at Páirc Uí Chaoimh, Tipperary 1-18 Clare 2-13 (Quarter-final); 2003 at Páirc Uí Chaoimh, Clare 2-17 Tipperary 0-14 (Quarter-final); 2005 at the Gaelic Grounds, Tipperary 2-14 Clare 0-14 (Semi-final); 2008 at the Gaelic Grounds, Tipperary 2-21 Clare 0-19 (Final); 2009 at the Gaelic Grounds, Tipperary 3-18 Clare 1-22 (Semi-final); 2011 at the Gaelic Grounds, Tipperary 4-19 Clare 1-19 (Semi-final); 2017 at Páirc Uí Chaoimh, Tipperary 0-28 Clare 3-16 (All-Ireland Quarter-final) and finally last year 2018 at Semple Stadium, Clare 1-23 Tipperary 1-21 (Round 4).
However, Tipperary's last championship meeting with Clare at Ennis in the 1986 Munster semi-final resulted in a 2-10 to 1-11 win for the home team, hopefully the result will be in favour of the Premier County on Sunday next.
We send best wishes to the team and management in what will be another difficult assignment on Sunday.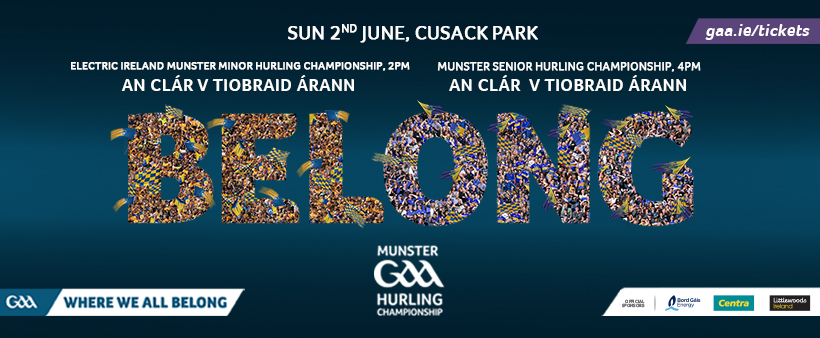 ALL-IRELAND FOOTBALL QUALIFIERS
Following Monday morning's draw for the first round of the football qualifiers, Tipperary will travel to meet Down on Sunday week 9th June in Páirc Esler, Newry with throw-in at 2pm.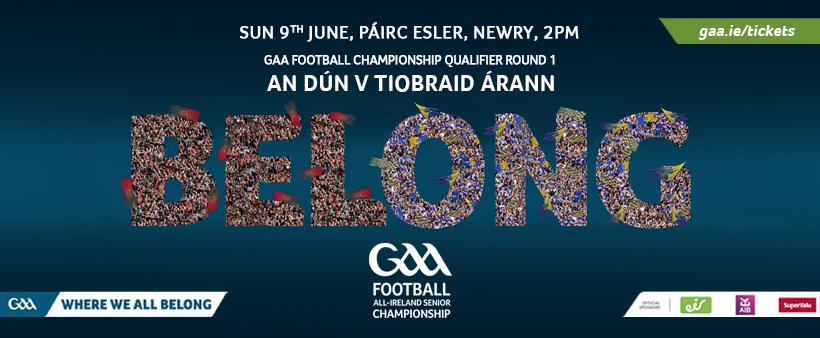 MUNSTER MINOR HURLING CHAMPIONSHIP
Ahead of the main event in Ennis, the Tipperary minors will take on Clare at 2pm for their Round 3 fixture in the Electric Ireland Munster Minor Hurling Championship. It is all very tight in this championship with Tipperary and Clare both on two points, though Tipp have one game more played.
The referee for this game will be Simon Stokes (Cork) and here too we send best wishes to the team and management for this round 3 encounter.
REFEREES
Best wishes to our referees in action this weekend. First up in Walsh Park on Sunday next, June 2nd, at 12 noon in the Munster Minor Hurling Championship Kevin Jordan (Thurles Gaels) will take charge of the clash between Waterford and Limerick. This will be followed by the Munster Senior Hurling Championship Round 3 fixture at 2pm when Fergal Horgan (Knockavilla-Donaskeigh Kickhams) will preside over the meeting of Waterford and Limerick.
Later at 4pm, Derek O'Mahoney (Ardfinnan) will be in charge when Cavan and Armagh meet in the Ulster Senior Football Championship Semi-Final.
ANDREW CORDEN CUP U20 FOOTBALL
The GAA U20 Football Development Leagues are designed to aid development by giving each county a number of league games in advance of the knock-out provincial championships. Groupings for the various competitions are largely based on a geographical basis and where possible, avoiding repeat pairings from provincial Championship Rd 1 or Quarter Finals. Each competition is separate of which there are five competitions; Philly Mc Guinness Cup; Leo Murphy Cup; John Kerins Cup; Liam Connor Cup and the Andrew Corden Cup. A trophy to be presented to the winner of each competition.
Tipperary will contest the Andrew Corden Cup and the group also includes Laois, Wexford, Carlow and Waterford.
Each team will play four ordinary rounds of league and have a bye round and the top team in the group after the five rounds will be the winner. Games to be played on a home and away basis.
Tipperary's first fixture for the Andrew Corden Cup is this Wednesday evening 29 May, when Round 1 throws-in at 7:30pm in Dr. Morris Park with Waterford providing the opposition.
The subsequent fixtures are as follows; Saturday 1 June 2019, Round 2 – Laois v Tipperary; Saturday 8 June 2019 Round 3 – Tipperary BYE; Wednesday 12 June 2019, Round 4 – Tipperary v Carlow and Saturday 15 June 2019, Round 5 – Wexford v Tipperary in Bellefield, Enniscorthy at 1pm.
Pictured below is Jack Harney (Moyle Rovers) Captain and Darragh O'Leary (Ardfinnan) Vice-Captain.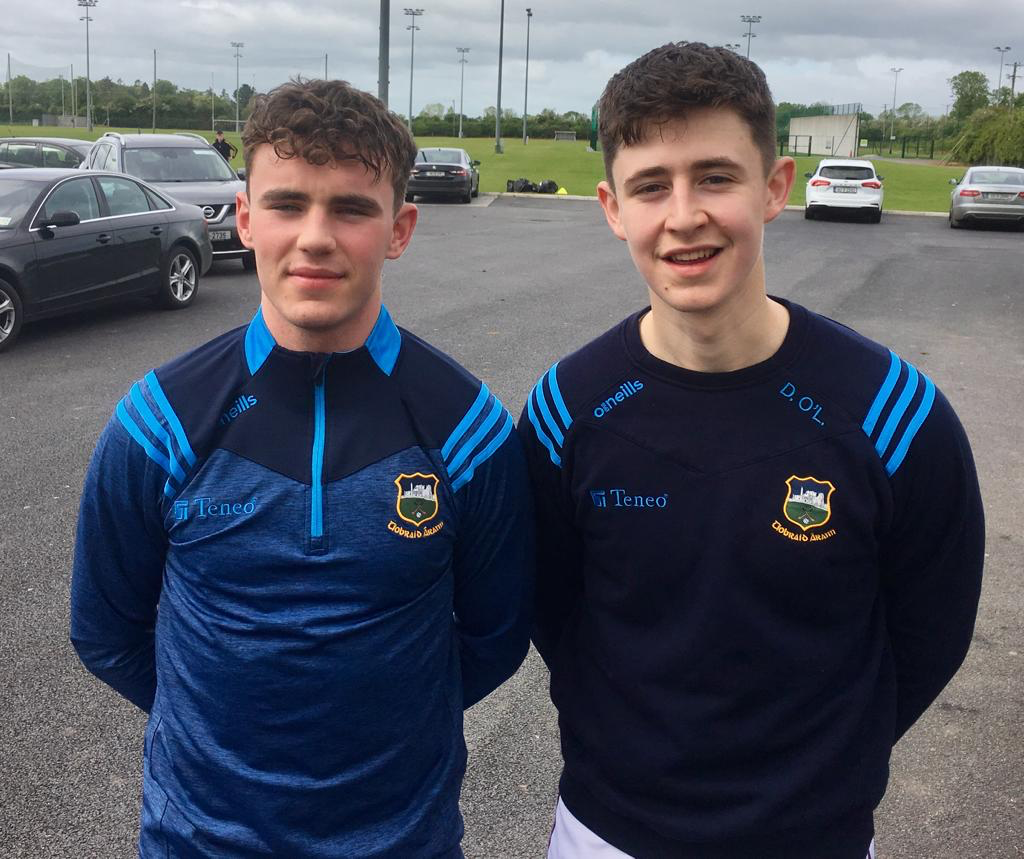 The Tipperary U20 team is managed by Tom McGlinchey and his management team are made up of Paddy O'Flaherty – Coach/Selector, Niall Fitzgerald Coach/Selector, Adrian Condon – Logistics, Vivienne Glynn – Physio and Tommy Toomey – Stats/Analysis.
Tipperary's first match in the EirGrid U20 Munster Championship will be on Tuesday 2 July in a quarter final clash against Limerick in Semple Stadium at 7pm.
CAMOGIE
Commiserations to the Tipperary team which failed in their bid for honours in the Munster Senior Camogie Final as a stronger Cork outfit claimed the title on a 3-17 to 2-10 score-line.
LADIES GAELIC FOOTBALL
Well done to the Tipperary ladies who have qualified for the Munster Intermediate Ladies Football Championship final following their 2-15 to 2-11 victory over Clare last weekend. Played on a round robin basis and having already defeated Limerick in the opening round, Shane Ronayne's side await the result of the Clare/Limerick match to see who they will play in the final.
CELTIC CHALLENGE
In the Bank of Ireland Celtic Challenge, Tipperary Gold (West and South Tipperary) were defeated by Cork City 1-17 to 1-13 last Wednesday. Their next match is against East Cork in Midleton on Wednesday, June 5th with a 7:30pm throw-in.
In Group A Rd 4, Tipperary Blue (North and Mid Tipperary) were defeated 3-21 to 1-13 by Galway Maroons last week and they will play Limerick Treaty in St. Patrick's GAA Club in Round 5, next Wednesday night, 5 June at 7:30pm.
POC FADA
Tipperary Poc Fada takes place on Thursday June 6th, in Bike Park Ireland, Knockshegowna. Registration will be at 6:30pm and the event will start at 7pm. The senior event is open to all and applications for the senior event can be made by email to secretar[email protected] or [email protected] The U16 Event is through divisional qualification at Bord na nÓg level.
CLUB FIXTURES
There are a number of games this weekend in the Tipperary Water County Hurling and Football Leagues. For results of all games and forthcoming fixtures please check https://tipperary.gaa.ie/fixtures-results/
HEALTH AND WELLBEING
May 31st is WORLD NO – TOBACCO DAY which will focus on tobacco and its impact on lung health.  Under the heading DON'T LET TOBACCO TAKE YOUR BREATH AWAY, people are encouraged to choose HEALTH NOT TOBACCO.  For help and support check quit.hse.ie or Freephone 1800201203. Ireland now has more quitters than smokers and this is an excellent time for all clubs to implement NO SMOKING initiatives which are encouraged by the GAA and the HSE.
Best of luck to the many Tipperary ladies participating in the VHI Women's Mini Marathon which takes place this coming weekend. Closer to home Rockwell Rovers are promoting the Mary Doyle Memorial 5K Family Run/Walk which takes place Saturday 8th as part of the New Inn Festival.
Remember this coming holiday weekend for a positive impact on your wellbeing smile more often and get in touch with the friend you keep meaning to contact.
SYMPATHY
We offer our sympathies to former Tipperary player and manager Nicky English, his sisters Eilis and Fionnualla and the extended English family on the passing of their father Donie last Sunday, RIP. Donie will be laid to rest after 11:30am mass in Cullen this Wednesday morning.
TIPPERARY GAA CLUB DRAW
The new Tipperary GAA Clubs Draw committee would like to remind clubs that there are still 10 months remaining at €10 per month so clubs can still earn the same commission of €50 for every €100 collected or more if the 60% or 70% Bonus Commission applies.
The members who participated in the first draw held recently have the benefit of a free month in March 2020. New members who join now can still pay €100 to be included in that last draw in March 2020. So, clubs can regard these few weeks as an additional opportunity to increase their membership which time constraints perhaps did not allow you to do ahead of the first draw.
As an encouragement for clubs to increase their membership this month the draw committee are extending the 20/20 OFFER of 20 FREE Munster Championship tickets for any club that still increases its membership by 20 members on your March 2019 returns. The 20 tickets will apply for Tipperary's Munster Championship Round 5 game against Limerick in Semple Stadium on Sunday June 16th.
Three clubs achieved the 20-member increase for the first draw, so it's not too late for your club to join them and get the 20 free tickets. Best of luck in your efforts.
TIPP CLASSICAL FESTIVAL
Tipperary GAA partner with Tipp Classical Festival for a unique Fundraising Initiative.
GAA clubs the length and breadth of the country know only too well that fundraising is crucial in keeping clubs going. Whatever size club, the GAA is the lifeblood of many local communities and funds are an essential part. Whether your club needs to purchase new jerseys, or your changing rooms could do with a fresh coat of paint, or better still, a brand-new clubhouse! Whatever the project, fundraising is a staple to maintaining any club and its grounds.
Tipperary GAA and Tipp Classical are delighted to have partnered for this unique fundraising initiative where clubs have the opportunity to raise valuable funds and potentially a windfall of up to €250,000. For every Tipp Classical Festival Ticket, you sell to your loyal club supporters 100% of that discount value goes back to your GAA club.
Semple Stadium Chairman Con Hogan said "The revival of the music festival at Semple Stadium proved a wonderful hit last year, evoking great memories of the Féiles of the '90s. This year we have an even better line-up and now club members are being given the opportunity to support their club while purchasing their tickets for Tipp Classical 2019. For every ticket purchased the club will receive back €10 for a one day ticket or €15 for a weekend ticket. This is a great opportunity to generate funds for your club, your juvenile club, your camogie club, and your ladies football club. So let's make a major Tipperary effort on this one. Contact your members, get them to purchase tickets on the Tipp classical website under your club's name. They'll be guaranteed wonderful entertainment by some of Ireland's top entertainers and the Irish Concert Orchestra, and they will be generating funds for the Club and the County. A win-win for everybody!!"
Last year's festival brought an estimated €12 million boost to the local economy. With an expanded 2-day festival this year it will be an even bigger offering as it will cater up to 30,000 fans in Semple Stadium. Beyond the stadium, the fantastic FMC Music Trail of Liberty Square expands to include more venues throughout the town. Thurles will play host to some iconic and legendary performers as they descend onto the grounds of Semple.
Examples of commission that your club could earn:
| | | | | |
| --- | --- | --- | --- | --- |
| DETAIL | SALE PRICE | COMMISSION | QUANTITY |   |
| WEEKEND TICKET | €159.50 | €15.00 | 100 | €1,500.00 |
| DAY TICKET | €89.50 | €10.00 | 200 | €2,000.00 |
| POTENTIAL CLUB FUNDS | | | | €3,500.00 |
The process couldn't be simpler as all ticketing will be managed by our festival partners www.eventbrite.com. Each club in the county will have their own unique web address to direct their supporters to purchase tickets to Tipp Classical Festival, 21st & 22nd September, Semple Stadium.
The initiative will run for a 6-week period and kicked off on May 14th last.
Instructions for GAA Clubs:
Direct your members to the unique link containing your club name which we will provide. This link simply takes the buyer to your clubs Eventbrite page and ticket purchases are made from there. Each ticket purchased via this link will be tracked by us and we will then be able to calculate how much money was raised by your members for your club on the sale of Tipp Classical tickets. Example of the link: http://bit.ly/Tipp_Classicial_Aherlow (NB this link is only for Aherlow GAA Club), each club, camogie club and ladies football club in Tipperary has a link on the ticket website.
Here's an example of the text the Club can use to sell tickets:
Are you heading to Tipp Classical music festival in Semple Stadium this September? Why not support your local GAA club and reserve your tickets via the GAA club link below. A percentage of each Tipp Classical ticket purchased this way will raise funds for your local club. Visit the festival website https://tippclassical.com/ to see the line-up of artists on each of the festival dates.
If they're getting this printed anywhere (posters/ leaflets) the organisers could provide a QR code as well.
KELLOGG'S CÚL CAMPS
The Kellogg's GAA Cúl Camps are back for 2019. Registration includes the attractive and distinctive Kellogg's GAA Cúl Camp kit that is supplied to participants and is worn with pride by young boys and girls all over the country.
Children are coached in hurling, camogie, football and ladies' football and some camps offer rounders, handball and fun & run.
The week-long Kellogg's GAA Cúl Camps are priced at €60, dropping to €55 for a second child and just €45 or a third and any additional children.
Everyone who registers for a Kellogg's GAA Cúl Camp can enter a competition for a chance to win €5,000 worth of training gear for their team and a €500 voucher for themselves by entering the code from promotional packs of Kellogg's Corn Flakes or Rice Krispies in store from April or answering a question online. Register online now – gaa.ie/kelloggsculcamps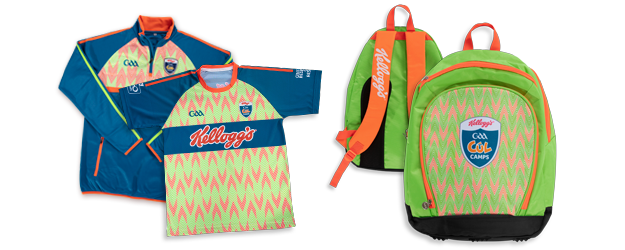 TIPPERARY SUPPORTERS CLUB

Ahead of Tipp's third round Munster Senior Hurling Championship match on Sunday next against Clare in Ennis, supporters can join the Tipperary Supporters Club at www.tippsupportersclub.com or by calling Jim Reidy, Membership Officer on 086 3580718.
The membership pack includes the following benefits:
All members are entered into a prize draw for championship match tickets for all Tipperary Senior games.
A specially designed Tipperary Supporters Club pen with stylus for use on touch-screen devices
2019 Car Sticker
Text alerts for all Championship team news
Regular news to your email about all the latest in Tipperary GAA circles
also read