By PRO Joe Bracken
BGE U20 ALL-IRELAND HURLING CHAMPIONSHIP FINAL
A fantastic week for Tipperary hurling was made even more enriching when the Tipperary U20 team made history by becoming the inaugural winners of the Bord Gáis Energy All-Ireland championship following their terrific 5-17 to 1-18 victory over Cork in the LIT Gaelic Grounds last Saturday evening.
Before an attendance of 18,652 the adage of 'goals win matches' was never so true. In a blistering start the Premier men had the Rebels on the ropes from the throw-in as four early goals, coming courtesy of two by Billy Seymour (Kiladangan) and one each from Andrew Ormond (JK Brackens) and Jerome Cahill (Kilruane MacDonaghs) saw Liam Cahill's side dictate the opening encounters. With the back unit performing heroically, led by captain Craig Morgan (Kilruane MacDonaghs) the work rate and application throughout the side epitomised the spirit within the panel as they quelled the Cork fightback. A final green flag raised in added time by Cathal Bourke (Clonoulty-Rossmore) completed the scoring on what was one of the most memorable few days for the Premier County.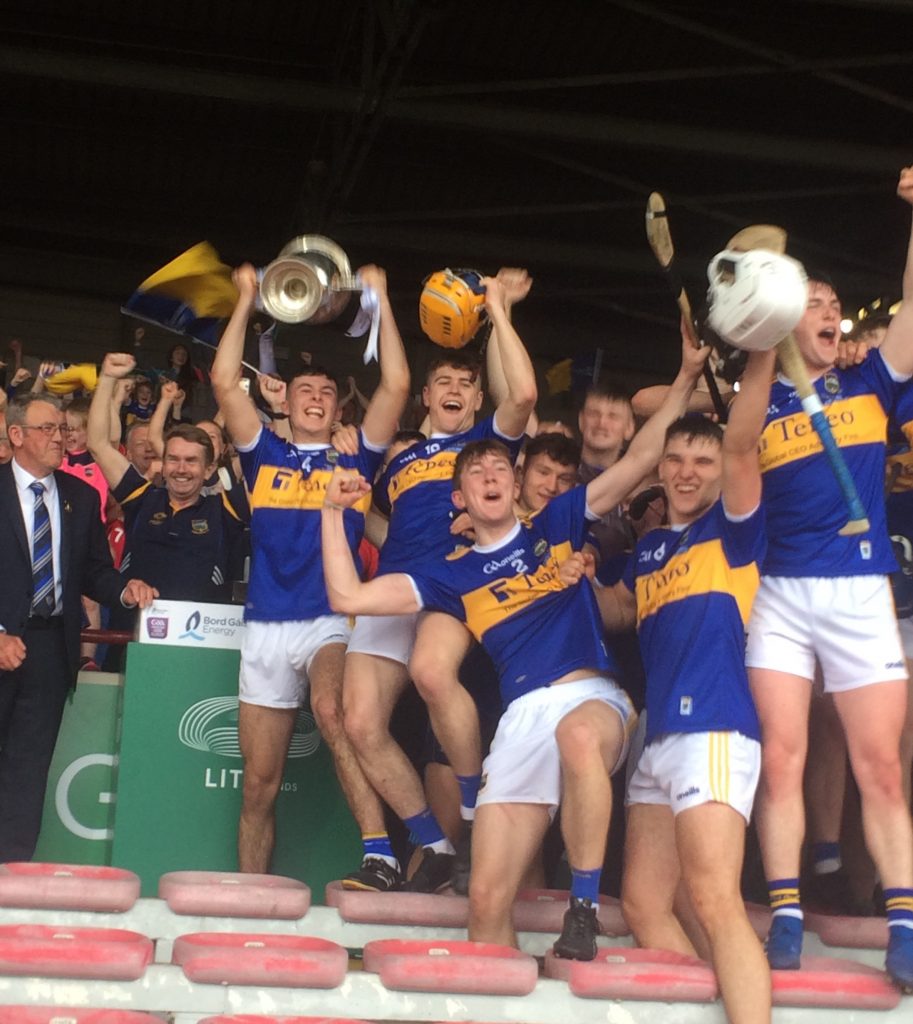 Congratulations to Billy Seymour, pictured below, as he was named BGE Man of the Match following his display in which he scored 2-5, including one side-line cut.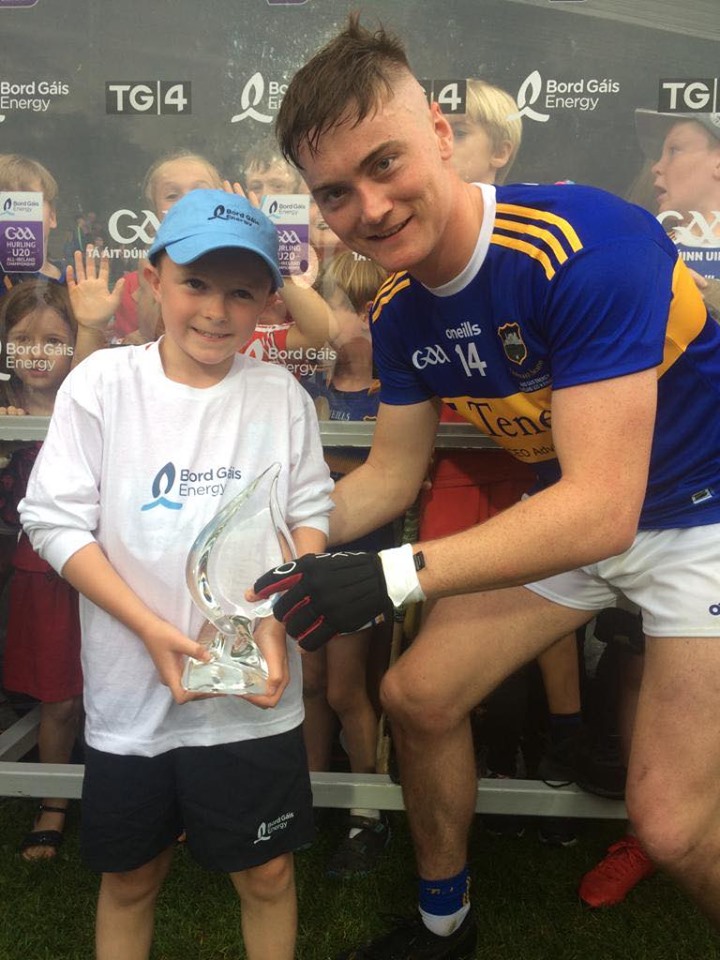 Saturday's result capped off a unique and remarkable collection of honours for 3 players, Paddy Cadell (JK Brackens), Jerome Cahill and Jake Morris (Nenagh Éire Óg) as they have now won All-Ireland U20 and senior titles in 2019 to go with those won at U21 (2018) and minor (2016).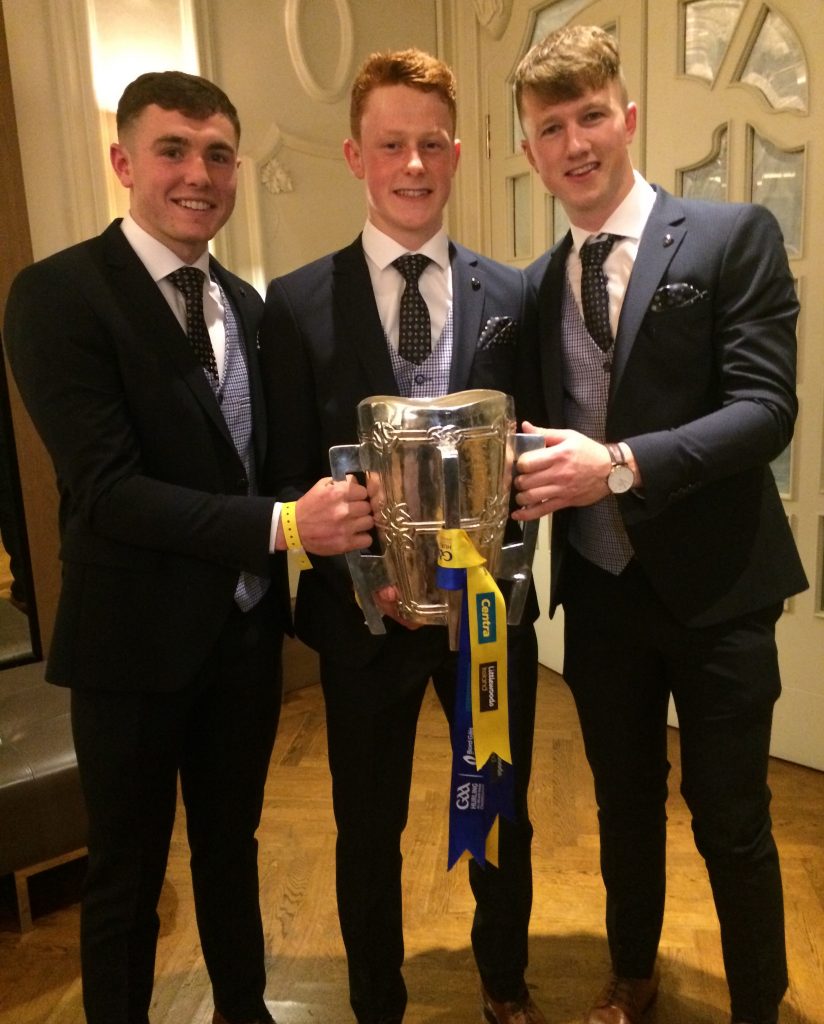 Congratulations to the panel on their wonderful achievement and also to the management team, pictured right, led by manager Liam Cahill, coach/sector Michael Bevans and selectors TJ Ryan and Sean Corbett who have now collected three underage titles in a 4 year timespan, as All-Ireland winners in minor (2016), U21 (2018) and U20 (2019).
Just as the Tipperary team of 1964 did when they became the first ever winners of the U21 championship, the current panel amassed an incredible score tally of 19-71 in four games played, with 4-60 scored against. The '64 team scored 40-39 and conceded 11-11 in 5 games. Tipperary now sit on top of the standings along with Cork and Kilkenny with eleven All-Ireland titles in the U20/21 grade.
The homecoming to Cloughjordan was greeted by bonfires as the team, management and backroom personnel were paraded from the Kilruane MacDonaghs club grounds, led by captain Craig Morgan, to the centre of the village by piper Gerard Neville. There, they were greeted by the huge numbers gathered under the expert attention of M.C. Gilbert Williams before being introduced to the joyous supporters.
A tremendous year then for Tipperary hurling has the county on a high following the recent set of results which has recreated the events of 2010. In doing so, Tipperary has bookended the decade in equal fashion. Going into 2020 and beyond will present its own challenges, which are for another day. Let's savour the moment now, however, and celebrate what has been achieved, the future will no doubt look after itself and once it has a blue and gold tint to it, we'll be all the happier too.
PLAYER OF THE MONTH
Congratulations to Noel McGrath (Loughmore-Castleiney) on being named PwC GAA/GPA player of the month for August. Following his man of the match performance in the All-Ireland Final, Noel is a worthy recipient of the award.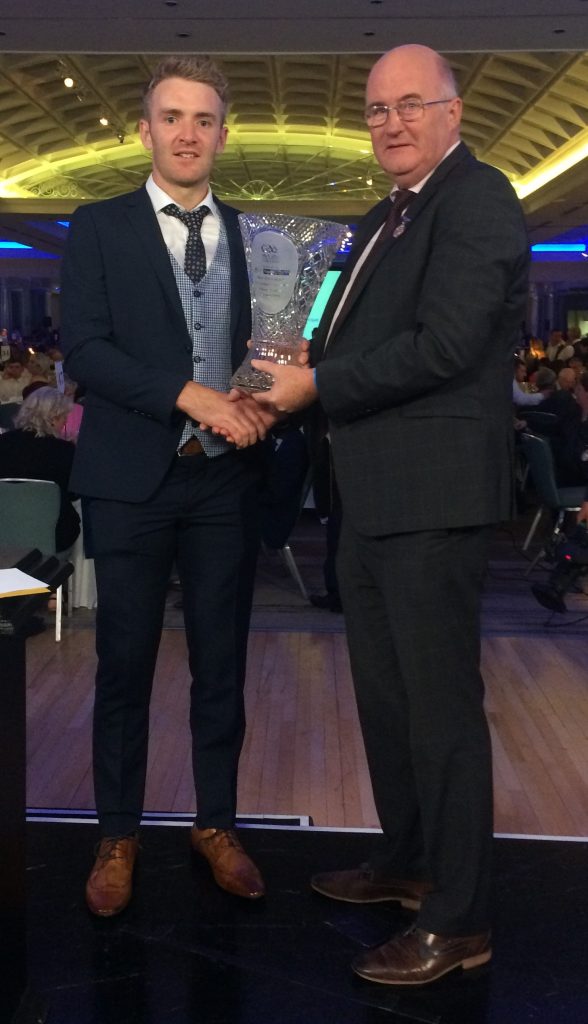 KILMACUD 7'S
Congratulations to Portroe GAA with the club winning the Beacon Hospital Kilmacud Crokes All-Ireland 7's tournament for the first time in twenty years on the weekend of the All-Ireland hurling final.
NEW COUNTY CLUB SPONSOR
FBD Insurance announces three year sponsorship deal with Tipperary GAA
FBD Insurance is delighted to announce that it will sponsor the Tipperary GAA Club Hurling & Football County Championships for a three year period 2019-2021.
Tipperary GAA partnership with FBD Insurance includes sponsorship of all Senior Hurling and Senior Football County Championship Club games and all other Tipperary club championships from minor grade upwards and will be known as the; " FBD Insurance Tipperary County Hurling & Football Championships".
FBD is Irelands only indigenous Insurance Company remaining in the market and has local branch offices in Thurles, Clonmel and Nenagh. FBD provides a comprehensive range of insurance covers for cars, homes, farms and a broad range of general businesses along with being on the ground and providing a vital source of employment in local communities.
All Ireland Winning Tipperary Captain Seamus Callanan along with the Liam McCarthy and U20H All Ireland Cups plus a host of local club stars launched the FBD Insurance sponsorship at FBD's local office in Thurles.
Chairman of the FBD Trust Michael Berkery – himself a Tipperary man – said he was "delighted this sponsorship with Tipperary GAA had come to fruition and everyone in the company is enthusiastic in support of the relationship with the clubs and players involved in the forthcoming County Championships. Tipperary's amazing success at both senior and U-20 level is testimony to the strength of hurling in the county which is at an all-time high. Congratulations to Liam Sheedy and Liam Cahill and all the players for the great joy they brought to Tipperary people at home and abroad".
FBD's Head of Sales for Munster Maureen O'Meara said "FBD Insurance is Ireland's true local Irish insurer and we have been protecting Irish families, businesses and farms for over 50 years. Local communities are the foundations of all the support that help GAA clubs and players prosper. At FBD, we have a unique connection to our local communities, providing on the ground expertise that our customers truly value. FBD Insurance is delighted to partner with Tipperary GAA on what we know will be an exciting journey over the coming years."
Tipperary GAA County Chairman John Devane said, "The clubs are the lifeblood of the GAA and are the heartbeat of Irish communities. It's wonderful that a company such as FBD who have a real presence at local level are coming on board to support the Club Championships in Tipperary."
The sponsorship of the Tipperary Club Championships is an addition to FBD Insurance's sponsorship portfolio which includes, The Irish Olympic Team, The FBD Connaught League, The Ploughing Championships, Bloom in the Park and a host of initiatives through the FBD Trust which provides support to Irish farmers, their families, communities and the Irish agricultural industry in general.
CLUB FIXTURES
The FBD Insurance Tipperary County senior, intermediate and junior football club fixtures were the focus of attention last weekend.
It's the turn of the FBD Insurance County Tipperary senior and intermediate hurling championships and Seamus Ó Riain Cup this weekend with 22 games down for decision. There is sure to be huge interest in club action from this weekend on many clubs and supporters welcome back their inter-county players to the club scene.
To help supporters see as many games as possible, Tipperary Co. Board is rolling out a weekend pass for all games this weekend. For just €15 you can attend as many games as you wish during Saturday and Sunday if you avail of the Weekend Package.
This package can be purchased from gate checkers at all games on Saturday and from the Tipperary office in Lar na Páirce up to 5:30pm on Friday.
For results of all games and forthcoming fixtures please check https://tipperary.gaa.ie/fixtures-results/
ARRABAWN TOURNAMENT
The U15 Arrabawn tournament will be held this Saturday, August 31st in the Mid division and we send best wishes to the Tipperary panels involved and all clubs hosting the games.
In the Arrabawn Cup, the semi-final pairings are as follows; Kilkenny v Galway in the Ragg and Cork v Dublin in Templetuohy, both with 12noon throw-in times. The final will be played in Boherlahan at 5pm.
In the Arrabawn Shield, the semi-final pairings are as follows; Limerick v Offaly in Drombane and Tipperary v Wexford in Littleton, both again at 12noon and the final in Holycross at 3:30pm.
In the Arrabawn Plate, the semi-final pairings are as follows; Cork v Laois in Páirc na nÓg and Waterford v Clare in Kickham Park, with throw-in at 11am. The final will take place in Boherlahan at 2pm.
Turning the attention to the John Doyle Cup, the semi-final pairings are as follows; Galway v Kildare in the Ragg and Dublin v Kilkenny in Templetuohy, both at 10:30am with the final in Holycross at 3:30pm.
In the John Doyle Shield, the semi-final pairings are as follows; Limerick v Tipperary in Littleton and Westmeath v Clare in Drombane, both start at 10:30am with the final in Holycross at 2pm.
The John Doyle Plate will be a straight final between Wexford and Waterford, and this will throw-in at Holycross at 12:30pm.
TIPPERARY CLUBS DRAW
The September GAA draw will be held in Kilsheelan on Friday week, September 6th, more details next week.
HANDBALL
A great weekend for Tipperary GAA continued in the softball (60×30) Féile 2019 girl's competition which was revived after a lapse of several years. Eight club teams from all over the country played in two groups of four hosted by Castlebridge and St. Mary's Handball Clubs in Wexford on Sunday August 25th where Lahorna HBC had a team in each group.
Lahorna's team 1, pictured below, swept the boards with wins over Cullohill from Laois, Windgap and Glenmore from Kilkenny on their way to the semi-final against club mates Lahorna 2 and in the Cup Final against Kilkishen, Clare where they won 21-11, 21-3. Lahorna's team 2 then played in Castlebridge where they finished runners up in the plate final.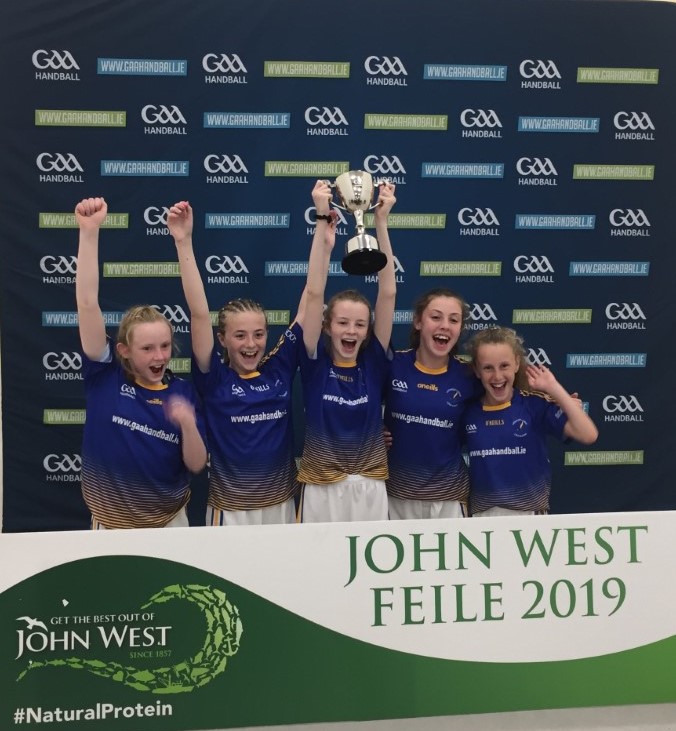 Hannah Grace won gold in the Skills to add to her gold in the 40×20 Féile Skills earlier this year. Overall, this was a great achievement for this group of girls.
In the adult championships Tipperary players contested All-Ireland semi-finals against Leinster in various courts around the country.
In DMAS Billy Mullins had a good win over Martin Clancy from Carlow in Garryhill. Packie Mullins travelled to Na Fianna in Dublin and caused a big upset beating Dublin's Eugene Kennedy in two straight games. Kevin Mullins was beaten by Robbie McCarthy of Westmeath in Clonmel. In Ballymore Eustace, Willie Bourke lost out in the third game to Gary Bolger from Kildare. In Ballina in RMS Paddy Collins lost to Carlow's John Rossiter, 21/17 21/2. In U21S James Prentice was in great form beating Ben Devlin from Louth 21/18 21/6. In O35A David Hickey put in a great display against Gavin Buggy from Wexford. Unlucky to lose the first 21/17 David took the second 21/11 but the experienced Buggy made no mistake in third to earn a place in the All-Ireland Final. John Kennedy in SMBS, Sinead Meagher in Intermediate Singles and Pat O'Flaherty in GMAS are through to All-Ireland Finals. The ladies minor singles are still to be played with Siobhan Prentice up against Leah Doyle from Kildare.
LEGENDS HURLING MATCH
The Alzheimer Society of Ireland are hosting a unique fundraising initiative, which was launched by two leading Munster dementia advocates, Kevin Quaid and Kathy Ryan, who both have a dementia diagnosis, at Semple Stadium in June, will be held on Saturday, September 7th at Nenagh Éire Óg grounds (5.00pm Throw-In).
The Tipperary legends who have signed up to support the initiative are Michael Ryan, Michael Cleary, Brendan Cummins, Colm Bonnar, Declan O'Meara, Kevin Tucker, Eddie Tucker and Brian Gaynor. And, on the Limerick side, the legends that have signed up are Joe Quaid, Ciaran Carey, T J Ryan, Mike Nash, Gary Kirby, John Quaid and Gerry Quaid. More legends will be announced in the coming weeks.
In addition to this, prominent GAA journalist Damian Lawlor has been confirmed to do MC, match commentary and a Q&A with legends afterward and the Liam MacCarthy Cup will also be present on the day and at the evening reception after the match in the Abbey Court Hotel in Nenagh.
Tickets for the event can be purchased via Eventbrite at €15.00 for adults and kids going free with all the money raised going towards providing community services and advocacy supports in the Munster area and beyond. Tickets can be purchased today via this link: tinyurl.com/y2kmefyv  
WHEELCHAIR HURLING
Wheelchair hurling is coming to Tipperary on Saturday 14th Sept. It will take place at St Marys Secondary School Newport Co Tipperary. Every year each of the provinces hosts a round of the League competition and this year's Munster leg is being held in Newport Co Tipperary. Each of the 4 provinces will have a team taking part. The opening ceremony will take place at 10.30a.m with games commencing at 11a.m. In June this year 12 wheelchair hurlers (3 from each province) represented Ireland at the International Floorball competition competing against 9 other nations. This was a fantastic experience for the wheelchair hurlers.
The Munster team is made up of players from Clare, Limerick and Kerry. Training takes place once a week in Limerick. We would be delighted to have players from Tipperary. If you know of any wheelchair user that might be interested let them know about the event in Newport and they can get further details about Wheelchair hurling from; Gerry McNamara 085 1901900 or Dave Fitzgerald 083 8168143.
The GAA at Croke Park and Munster GAA are fully supportive of wheelchair hurling and have recognised it as part of the GAAs Games for all programme.
FÉILE 19
Celebrating Tipperary's 2 All-Ireland victories the promoters of Féile 19 have a wonderful special offer of two tickets for the price of one available between 9am Thursday 29th August and midnight Saturday 31st August. Book tickets on www.thetriptotipp.com/tickets
Féile 19 will take place in Semple Stadium on Friday and Saturday, September 20th and 21st next.
19 T LIAM
In answer to a lot of queries regarding the official number plates as per attached, the following distributors are now appointed for 19 T LIAM; O'Rahelly Sports  72 Main St, Tipperary Town, Starr's Drapery – Mitchell St, Nenagh, Fogarty's Grocery Store, Parnell St. Thurles, Applegreen / Centra, Ballylynch,  Carrick-On-Suir and John Quirke's Jewellers, 14 Castle Street, Cahir, Barack Obama Plaza Moneygall, Maloney's Filling Station, The Ragg, Meaghar's Shop, Borrisoleigh, O'Gorman's Pharmacy, 52 Gladstone St, Clonmel, Premier Sports, Lower Gate Square, Cashel
STARS IN THEIR EYES
Tipperary GAA Supporters Club presents 'Stars in Their Eyes' which was launched on Monday last, August 26th in the Dome, Semple Stadium.
The Tipperary GAA Supporters Club is hosting a fundraiser for the Tipperary Senior Hurling All Ireland Champions 2019 and Camogie Team by staging "Stars in Their Eyes" at The Dome, Semple Stadium, Thurles on Saturday, November 9th.
We know they can do it on the pitch, but can they do it on the stage?
The show will include members of the present Tipperary senior hurling and senior camogie team, former players and present management. The evening will be compered by the very high-profile sports presenter Marty Morrissey and celebrity judges will include sports pundit and ex Tipperary goalkeeper Brendan Cummins, TV, Radio and entertainment personality Mairead Ronan and Tipperary country singer Louise Morrissey.
The Tipperary Supporters Club are seeking sponsorship and we are hoping that the businesses in Tipperary will be happy to be associated with this high-profile event and support the All Ireland winning Tipperary senior hurlers holiday fund and the Tipperary senior camogie players fund.
Maximum publicity will be generated through club participation, an active social media campaign, Tipp FM (Camogie sponsors), Tipp Mid-West Radio, Beat South East Radio and all Tipperary newspaper media. The evening and its promotion will reach out to not alone hurling supporters but to all the people of Tipperary and beyond.
The launch of this exciting event was held at the Dome, Semple Stadium on Monday 26th August 2019 at 6.30pm and broadcasted on Tipp FM. Seamus Callanan, Captain of the victorious Tipp team attended along with Louise Morrissey.
Tickets will be available in the coming weeks and Tipperary Supporters Club urge your support for what promises to be a great evening of celebration, entertainment and competition.
Tickets are priced at €25.
For queries and further details please contact any of the following: Billy Coman, Secretary Tipperary Supporters Club, bcoman52@gmail.com
Committee Members: Bernie Maher 087 9509533, Christina Millea 085 7522834 and John Carew 086 8317591.