Neil Hogan and his son Matthew, from Canberra, Australia, at the Bourke homestead in Gurteenavalla, Templederry. Almost 100 years ago, Neil's grandfather, Sean Hogan, along with Seamus Robinson and Sean Treacy, while wanted by the British authorities, were given shelter and refuge by Jeremiah Bourke, grandfather of Derry Bourke.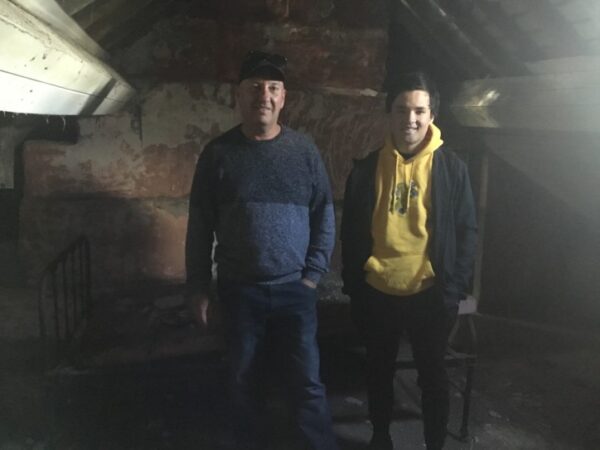 The bed, that Bill Bourke, late of Chapel St, vacated, to accommodate Sean Treacy
---
Borrisoleigh/Ileigh Parish Notices
The Rosary will be recited before 10am Mass every day beginning at 9.40 approx.
Congratulations to the 13 boys and girls who received their First Holy Communion recently. Well done to all who were involved in their preparation for this occasion.
Papal Nuncio's Visit to Borrisoleigh 2nd You are all very welcome to the celebration of this Mass at 11am.  The chief celebrant will be the Papal Nuncio, His Excellency Most Rev Jude Thaddeus Okolo.  The Mass will be followed by entertainment, refreshments and a visit to Bishop Shanahan's birth place in Glenkeen.  A choir Practice in preparation for the visit of the Papal Nuncio will take place on Wednesday 22nd May at 8pm and also the 29th May at 8pm.
Recently Deceased: Lorraine Chute. R.I.P, Christine O'Connor, Coolderry. R.I.P., John Ryan Gorteeney, R.I.P, Amanda Ryan(Nee Stapleton) London and Borrisoleigh R.I.P.
The Annual Padre Pio National Pilgrimage at Holycross Abbey takes place on Sunday next 26th May beginning at 1.30pm with recitation of the Rosary, Stations of the Cross, Anointing of the Sick and con-celebrated Mass at 3pm. Contact 0504-43124 or hbparishoffice@gmail.com for more information.
Eucharist Healing Night through the intercession of St. Padre Pio – Lead by Fr. John Mockler. Sat 25th(Birthday of St. Padre Pio) in the Church of the Nativity Loughmore, beginning at 6pm. Rosary, Hour of Healing with the Eucharist. Anointing of the Sick. Veneration of 1st Class relic of Padre Pio.  Holy Mass at 8pm. All are welcome.
---
Borrisoleigh Active Social Club
Reminder of the Chocolate Cookery Demonstration with Pastry Chef Rita from Mount Juliet in the Community Centre Borrisoleigh on Wed May 22 starting at 7pm. To book a place give your name to Lucia 0863961211 or Eileen  087 9849848.
As we take a break from meetings during the summer months we will be having a summer party night on Bank holiday Monday June 3rd at 8pm in Joe Loughnanes. Finger food and music entertainment by Phil Maher.  Everybody is welcome.
---
Also read
PRESENTATION PRIMARY SCHOOL CARRICK ON SUIR WIN'S GLOBAL CITIZENSHIP SCHOOL OF THE YEAR