We had another lovely cycle Sunday morning in the beautiful countryside with the sun shining down on us as we chatted our way through the Ragg and across to Drom village with gorgeous views of the devils bit in front of us.  Anyone interested check out the cycling Ireland website and register for next Sunday.  Thanks to all cyclists who turned up last Sunday really enjoyed it.
---
Introduction to Ceramics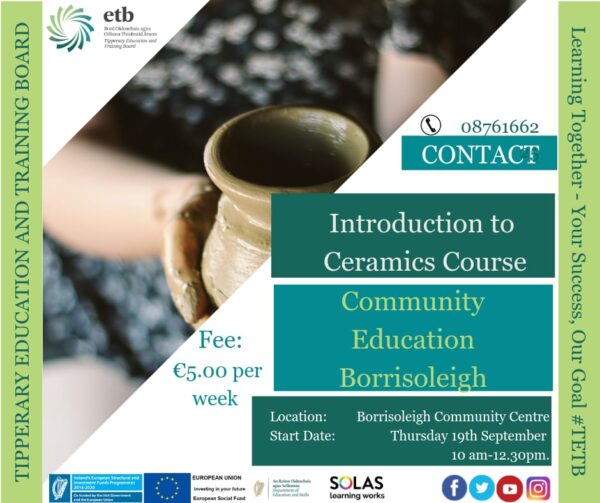 ---
Borrisoleigh Active Social Club
Borrisoleigh Active Social Club held their September meeting last Wednesday night.  After the summer break there was alot of ideas being discussed for the coming season.
Pilates class for our members returns on Tues Sept 17th at 6.45pm.
Among the ideas are our annual Christmas shopping trip which this year will be to Cork on Dec 10. Panto in Limerick which is Aladdin on Dec 28.
It is hoped to have a Halloween party on Oct 25. We are also aiming to have a First Aid Course and a weekly exercise class. Day trips and music concerts. More details to follow on all the above.
We have a group of our members heading off to Galway next Sunday. They are being joined by a group from the Drom/Inch club. They will be having a cruise on Lough Corrib and also heading to Kylemore Abbey.  No doubt there will be time for a bit of retail therapy.  Hopefully everybody will enjoy the trip.
If anyone is interested in going to any of the above please contact Lucia on 0863961211
---
New Yoga Class in Borrisoleigh
Easy Flow Yoga Classes starting on 16th September in Borrisoleigh Community Hall for 5 week introductory course.
To book your spot ring 087-7714938
For more information please click on the following link  http://www.yogaherbalist.ie/yoga
---
Community Mothers Programme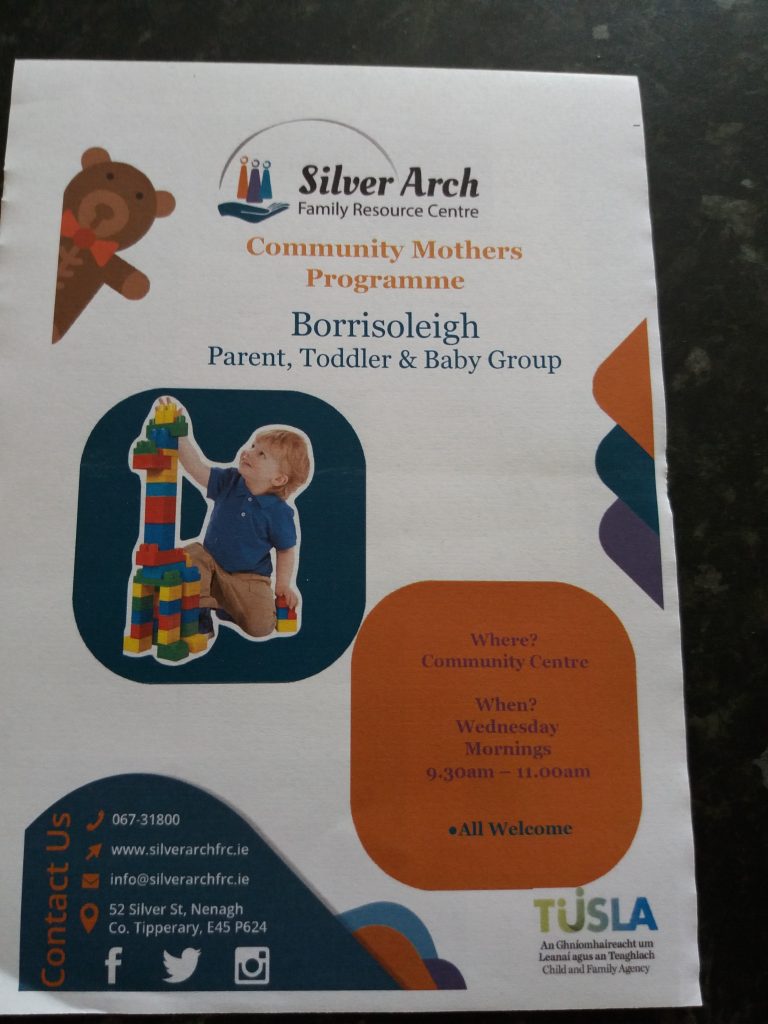 ---
 Knitting & Crochet Group
Every Wednesday from 10.00 to 11.30am in the Community Centre Borrisoleigh.  All welcome.
For details contact Mary at 0863098982
---
Parish News

Anniversary Masses next weekend:
We pray for all whose anniversaries occur, and for whom the following Masses will be offered.
8pm Saturday 14th September   Corah Murray. Rathmoy.
11am Mass Sunday 15th September Tom & Mary Ryan, Mountkinnane.
Paddy & Mary Walsh, Chapel Street, Borrisoleigh. and also for Paddy Ryan, Templemore who was interred recently.
Ileigh Church:
The Bell Tower is leaking in water to the side-aisle.  Work has begun to repair the Bell Tower.  The jints between the stone block and stones will be cleaned out and lightly hosed and sealed with a lime based filling.  Lead flashing will be placed on back of belfry.  Also lead flashing will be placed on top of one of the caps that is cracked.  Pinions will be made to secure the bell.
Wandering in the Wilderness-Finding Inspiration in the Book of Exodus
This four week course, presented by Sr. Therese Fitzgerald, Sister of Sion, explores biblical background, interpretation and application to life today.  Participants will discover in the book of Exodus learnings to support them in their personal and spiritual development.
Also read
MINISTER CREED HAS TO GET TOUGH WITH THE FACTORIES